From Chapter 4: Benchmarks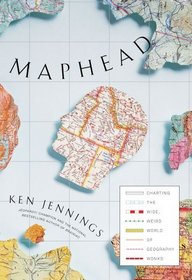 As long as I've loved maps, I've been an enthusiastic toponymist: a student of place names. Maps that aren't dotted with text look barren and lonely to me—what could be more soulless than one of those grade-school outline maps of a region with only a few sad oil derricks or ears of corn drawn on it to depict industry or agriculture? Those are the abominations that make kids hate geography. Names are the alchemical infusion that bring a map to life. There may be poetry in the curl of a coastline, but there's personality in a Humpty Doo, Australia or Oaxaca, Mexico, or Chililabombwe, Zambia. The great Flemish cartographer Abraham Ortelius evidently agreed with me. In his 1570 atlas , he labeled his imaginary southern continent of Terra Australis with tantalizing place names like "Land of Parrots," "Cape of the Good Signal," and "Sweetest River." No one had ever actually been to these nonexistent places, but hey, it was either that or leave an entire landmass suspiciously naked.
To this day, I feel a nostalgic warmth when I see obsolete map labels like "Tanganyika" and "Ceylon" and "British Honduras"—I've never been to these countries, of course, but their names are as direct a conduit to my childhood as the smell of a school cafeteria, or the piano line from an Air Supply song. I plan my vacations around places like Llanfairpwllgwyngyllgogerychwyrndrobwllllantysiliogogogoch, Wales ("St. Mary's church in the hollow of the white hazel near to the rapid whirlpool of Llantysilio of the red cave," as every trivia fan should know) and made sure to get my picture taken, during our trip to Thailand, next to the block-long sign at Bangkok's city hall that prints the city's full 163-letter name. Names don't have to be long to be memorable. You could spend months in Britain just visiting all the naughty little lanes and villages that seem to have been named by Benny Hill: Titty Ho, Scratchy Bottom, Wetwang, East Breast, Cockplay. In an American road atlas, the eccentric town toponyms all seem full of folksy roadside history: Cheesequake, New Jersey; Goose Pimple Junction, Virginia; Ding Dong, Texas.
Most of these places came by their names honestly. Goose Pimple Junction was once home to a warring couple whose noisy obscenities would make neighbors' skin crawl. Cheesequake is just a corruption of the Lenape Indian word "Cheseh-oh-ke," meaning "upland village." Ding Dong, Texas was named for a local sign painting of ringing bells. (It's located in Bell County.) But sometimes these names seem a little too good to be true because they are. Take that 58-letter Welsh village. It was plain old "Llanfair Pwllgwyngyll" until the 1860s, when an enterprising local tailor concocted the longer name as a publicity stunt, hoping to bring in tourist revenue. (Perhaps the town needed to buy a vowel.) So Llanfairpwll is the spiritual ancestor of all those desperate American towns today who sell their souls by renaming themselves for dotcoms and celebrities. Sometimes these contest-winning names stick: the former Hot Springs, New Mexico is still called "Truth or Consequences," more than thirty years after the game show for which it was named went off the air. The former Mauch Chunk, Pennsylvania will probably be called "Jim Thorpe" as long as the renowned Olympian is still buried there. But more often than not, the new name fades almost as soon as the headlines do. Half.com, Oregon went back to being Halfway, Oregon after only a year of sellout-hood. Joe, Montana is just plain Ismay, Montana again. These gimmicky name swaps always rub me wrong—maps are sacred! Would you sell ad space on the side of Mount Rushmore? So I applauded in 2005 when the tiny hamlet of Sharer, Kentucky turned down the chance to earn $100,000 by changing its name to PokerShare.com. The town's Bible Belt residents, it seems, didn't cotton to none of that Internet gambling.
But name notoriety can be a two-edged sword. For every Half.com, Oregon, happily taking big checks and a new high school computer lab from a money-mad dotcom, there's a Butt Hole Road in Conisbrough, South Yorkshire. Cabbie Peter Sutton, who lives on the road, told the Daily Mail that the road's cheeky name was a big draw for him when he first moved there—he couldn't believe the previous owners were moving out because they didn't like the name. But the novelty soon wore off, thanks to the endless stream of prank calls, skeptical delivery drivers, and busloads of tourists posing for pictures while mooning the street sign. The street was named for a communal rain barrel (or "water butt") located on the spot long ago, but history didn't matter: in 2009, the neighbors collected three hundred pounds and the city changed the name to the much less distinctive Archers Way.
The residents of Dildo, Newfoundland have been more stalwart in the face of world attention. The town believes it was named for one of the Spanish ships or sailors that first explored the rocky coast. "I feel sure that we've been here longer than artificial penises have been around," says Dildo's assistant postmistress, Sheila White. Locals seem filled with Dildo pride, in fact; every summer, during Dildo Days, the traditional boat parade is led by Captain Dildo, a wooden statue of an old fishing-boat skipper. In the 1980s, a Dildo electrician named Robert Elford circulated a petition trying to change the town's name to something like "Pretty Cove" or "Seaview," but his neighbors poked fun at his crusade, and he soon gave up. But many other towns near Dildo have changed their names to avoid the sniggers of outsiders: Famish Gut is now Fair Haven, Cuckolds Cove is now Dunfield, Silly Cove is now Winterton, and Gayside is now Baytona. The new names in these stories are always tragedies; they sound like the made-up settings of comic strips or soap operas. Something important is lost when an authentic bit of history is replaced with a bland town meeting consensus.
< Chapter 1 Excerpt
Chapter 9 Excerpt >