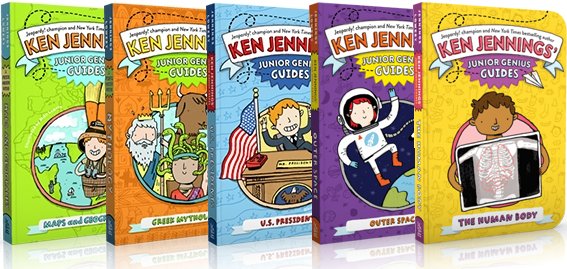 Little Simon, February 2014
Modesty precludes me from bragging to you about my unprecedented, record-setting, 74-game, multimillion-dollar run on the quiz show Jeopardy! But let me tell you where that story started: not on a Culver City soundstage in 2004, but decades earlier, when I was a kid, with a bookshelf beside my bed just crammed with amazing-facts books, ratty paperbacks full of hard-to-believe knowledge about every subject under the sun. Dinosaurs, computers, Vikings, baseball, ice cream. It didn't matter. I was curious about everything.
I'm launching my new Junior Genius series in the same spirit. I want to be the irritatingly enthusiastic, graduation cap-wearing, globe-spinning geek guru for a new generation of kids, the ones who are always yammering on to grownups about storms on Jupiter and the biggest pumpkin pie ever baked and the length of giraffe tongues. (Twenty inches, FYI.)
Each book in the series is crammed full of fascinating factoids about some field of knowledge, from geography to Greek myths to U.S. presidents, brought to life by the charming illustrations of Mr. Mike Lowery. Each book is structured like a day of school…if school were completely awesome! Seven periods full of facts, trivia, and pop quizzes, along with games for recess, craft projects for art class, recipes for lunch, and so on. Readers who pass the Official Junior Genius Certification Exam at the end of each book will be able to print out a certificate documenting their newfound expertise.
Also at the end of every book, readers recite the official Junior Genius Slogan, a quote from the 17th-century French thinker Blaise Pascal. (Our market research tells us that kids today are nuts about Blaise Pascal.) "It is much better to know something about everything," wrote Pascal in 1600, "than everything about something." That's my goal: to let all kids know that they can be Junior Geniuses. They just have to decide that it's cool and fun to know lots of really weird stuff. About everything.
Purchase The Junior Genius Guides online from a selection of fine retailers:
Signed and personalized copies of The Junior Genius Guides (as well as of all Ken's other books) can be ordered nationwide from Seattle's Third Place Books. Contact Third Place for more information.
Read Excerpts
From Maps and Geography

Praise for The Junior Genius Guides
"A stellar collection of facts . . . in an engaging, arch tone. Jeopardy! champ and author Jennings, making his foray into books for children, arranges the trivia in chapters that lightly satirize a school-day schedule, including a 'lunch period' offering an ingenious and easy recipe for an edible map, a craft project in 'art class,' and an official certification exam before the 'dismissal bell.' Cartoon illustrations, inset boxes, and Jennings' jokey patter break each fact-stuffed page into delicious wonder-bites, each as satisfying as the next. . . . A successful nonfiction package as well as pure reading fun."
Booklist (starred review)
"A liberally illustrated tongue-in-cheek guide...it will delight middle-grade fact lovers. You don't have to be a certified Junior Genius to enjoy this entertainingly presented introduction."
Kirkus Reviews
"Jennings makes an assured (and funny) children's book debut. . . he sidesteps the didactic and keeps his tone colloquial and light."
Publishers Weekly
"Jeopardy legend Jennings scores a win . . . A great addition to middle grade libraries, both school and public."
School Library Journal